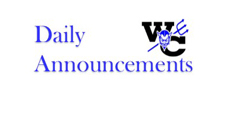 Daily Announcements February 21
Robin Fliehler
Friday, February 21, 2020
Daily Announcements Friday, February 21th Day 114
Today's Activities: Book Fair 8:30-3:30
Upcoming Activities: Book Fair All Week Long Monday: UIC Speech Tuesday: PT Conferences 4-8 pm Thursday: PT Conferences 4-8 pm Friday: No School
1. Cheerleaders need to turn in CLEAN uniforms and poms by Feb. 27th.
2. Junior Parent and Student meeting on Sunday the 23rd at 6pm in the cafeteria.
3. Junior Class Can Drive is this Saturday from 9:00-11:00 am. Please set cans at the end of your driveway to be picked up. Can bags are available if needed. If you have cans to be picked up call or text your address to Heidi Eitel 563-422-1980. Alan Orr, Delaney Adams-Carey, Zoe Larson and Sidney Hiemes are the helpers.