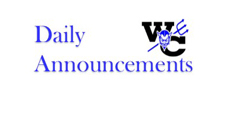 Daily Announcements February 24
Robin Fliehler
Monday, February 24, 2020
Daily Announcements Monday, February 24th Day 115
Today's Activities:UIC Individual Speech LV @ 2:30
Tuesday: 2nd grade to Gallagher BlueDorn LV @ 8:30 Parent/Teacher Conferences 4:00-8:00 Wednesday: 1st grade to Maple Crest LV @ 1:30 Thursday: Parent/Teacher Conferences 4:00-8:00 Friday: No School Saturday: District Individual Speech @MFL
1. Cheerleaders need to turn in CLEAN uniforms and poms by Feb. 27th.
2. Junior Class meeting during lunch on Wednesday, all need to attend.
3. No band lessons this morning. 3rd hour study hall to Mrs. Bower's room. 4. High School track begins today. Meet in the big gym at 3:30.
5. There is a sign up sheet in the office for anyone interested in Golf.
6. PJ day is Feb 27. The cost is $1.00. Food & Fitness group will be sitting in the lunchroom collecting money. Food and Fitness will meet Wednesday during 9th hour in the lunchroom.
7. Baseball Meeting on Wednesday @ 3:30.