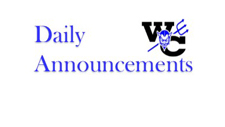 Daily Announcements February 26
Robin Fliehler
Thursday, February 27, 2020
Daily Announcements Thursday, February 27th Day 118
Today's Activities: Parent/Teacher Conferences 4:00-8:00 Friday: No School Saturday: District Individual Speech @MFL Monday: Sports Banquet 6pm
1. Cheerleaders need to turn in CLEAN uniforms and poms TODAY.
2. Thank you to those who participated in the Food and Fitness Pajama Day today. The money raised will go towards providing some healthy snack taste testing opportunities for all of our students in the near future!
3. There will be a speech meeting at lunch TODAY in Mrs. VandeVorde.
4. There is a sign up sheet in the office for anyone interested in golf.
5. Freshman D and F students will report to Mrs. Wells room 9th Hour from now on.
6. Senior Class apparel money is due Tuesday, March 3rd.
7. Any HS PE helpers NEED to have prior approval from Mr Hageman before you are able to assist him in class. Your study hall teacher MUST have the "notification" from Hageman as well.
8. HS boys basketball players will meet on Wednesday March 4th after school in the college classroom to turn in CLEAN uniforms and discuss off season schedule.
9. Today during lunch, HS students have the opportunity to purchase blizzards for $4.00.
10. NOTE TO ALL: at the end of the day TODAY, please make sure you have grabbed your lunch box from the cooler (across from the PK room). That cooler will be cleaned on Friday and items/lunch boxes will be thrown out.
11. The winter sports banquet is Monday, March 2nd at 6pm. Please bring a side dish or a dessert to share. Booster Club will be providing pizza and asking for free will donation.
12. Girls basketball players need to bring their clean uniforms, practice jerseys and warmups to the banquet that night.