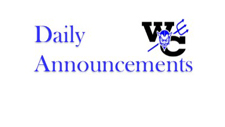 Daily Announcements March 3
Robin Fliehler
Tuesday, March 03, 2020
Daily Announcements
Tuesday, March 3rd
Day 121
Today's Activities: Student Gov't to Maple Crest WEDNESDAY: Blood Drive
There will be a meeting at 3:10 on Wednesday in Mrs. VandeVorde's for anyone interested in performing in the Variety Show on April 4. Please attend the meeting if you have questions or are at all wanting to be a part of the show.

HS boys basketball players will meet on Wednesday March 4th after school in the college classroom to turn in CLEAN uniforms and discuss off season schedule.

Students who are donating blood, tomorrow, should be increasing your water intake and continue throughout the week. Remember to eat a good meal Tuesday night and a really good protein packed breakfast on Wednesday morning. This will help to minimize reactions and assist you in the recovery following your donation.