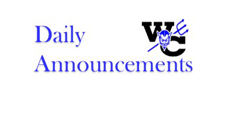 Daily Announcements March 4
Robin Fliehler
Wednesday, March 04, 2020
Daily Announcements Wednesday, March 4th Day 122
Today's Activities: Blood Drive
1. There will be a meeting at 3:10 TODAY in Mrs. VandeVorde's for anyone interested in performing in the Variety Show on April 4. Please attend the meeting if you have questions or would like to be part of the show, including backstage, makeup, lights and sound people...please attend!
2. There will be no track practice today.
3. HS boys basketball players will meet after school TODAY in the college classroom to turn in CLEAN uniforms and discuss off season schedule.
4. On Monday, March 9th, there will be a quick Junior meeting during lunch in Miss Hamm's room regarding Prom.