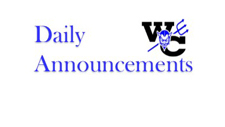 Daily Announcements
Robin Fliehler
Wednesday, September 09, 2020
Daily Announcements * Wednesday, September 9th* Day 7
Today's Activities: none
Thursday: JH VB vs Oelwein 4:15pm
Students are asked to park on the new blacktop only.
Results from the very wet and muddy Springville Cross Country meet last night: The varsity girls team won the meet and placed in 6 of the top 7 spots, including our own Annika Kent-Thomas finishing 7th individually. The varsity boys placed in two of the top three spots in the race, with Charlie Sieck placing third overall. Great job to all of the runners!

Returning Student Gov't students please meet in the commons for a working lunch today. Freshman students who are interested in Student Gov't please join.

Those interested in participating in Drama, please meet in Mrs. VandeVorde's room at 3:15 on Friday.

To ALL High School Students who drive - new this year are parking tags. Please stop in the office to fill out the registration sheet and pick up your parking tag.

High school students that have artwork that needs finished or just picked up from last year, need to come claim it, in the Art room, within the next two weeks or it will be thrown away. Ms. Vargason has a lot of clay things that need glazed or just finished. Everything in the kiln room is exactly the way it was left in March. Ceiling tiles also need finished.