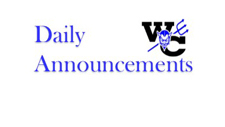 Daily Announcements
Robin Fliehler
Thursday, September 10, 2020
Daily Announcements * Thursday, September 10th * Day 8
Today's Activities: JH VB vs Oelwein 4:15pm
Students are asked to park on the new blacktop only.
Those interested in participating in Drama, please meet in Mrs. VandeVorde's room at 3:15 on Friday.

To ALL High School Students who drive - new this year are parking tags. Please stop in the office to fill out the registration sheet and pick up your parking tag.