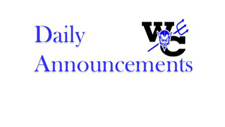 Daily Announcements
Robin Fliehler
Monday, September 14, 2020
Daily Announcements
Monday, September 13th
Day 10
Today's Activities: JH/JV FB @ Tripoli 4:15/6pm - dismiss after 8th hour, leaving at 3pm JH VB @ Postville 4:15pm THURSDAY: VB vs So Winn 5:30 JH VB @ NFV 4:15 - dismiss at 3:05 - leaving at 3:15 FRIDAY: JV/V FB @ Midland 5:30/7pm - dismiss after 8th hour, leaving at 3pm
To ALL High School Students who drive - new this year are parking tags. Please stop in the office to fill out the registration sheet and pick up your parking tag.

Junior high will travel in full pads, JV in Game Pants, we will board the bus behind the locker rooms.

Student Gov't will have their meeting on Thursday this week.

Reminder: 8th-12th grade will be at home, online learning, on Wednesday.

JH sports photos will be Wednesday during your normal practice time.