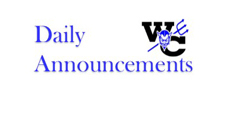 Daily Announcements
Robin Fliehler
Tuesday, October 06, 2020
Daily Announcements
Tuesday, October 6th
Day 26
Today's Activities:
Parent/Teacher Conferences VB @ MFL/MM 5:30pm - leaving at 3:45 JH/HS CC @ Dike 4pm - dismiss at 1, leaving at 1:15
THURSDAY: Parent/Teacher Conferences JH VB vs N-P 4:15pm FRIDAY: NO SCHOOL FB @ Central City 7pm - leaving at 4:15pm
The High School Cross Country team ran on Saturday against some of the highest ranked class 3a and 4a schools in the state at Wartburg. Most of our runners ran either a season best or lifetime best time. The biggest highlight of the day was Charlie Sieck setting a new West Central School Record time, finishing his 5k race (which is 3.1 miles) in 17 minutes and 18 seconds.

Any sophomore or junior that is interested in taking the PSAT National Merit see Mr. Milder. The test is next Wednesday cost is $17.