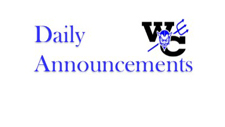 Daily Announcements
Robin Fliehler
Monday, October 12, 2020
Daily Announcements
Monday, October 12th
Day 29
Today's Activities:
JH/JV FB @ Central 4:15/6pm - leaving at 3:15, dismissing at 3pm
TUESDAY: JH VB vs Turkey Valley 4:15pm ; VB vs NFV 5:30
THURSDAY: VB vs Clayton Ridge 5:30pm HS CC (Starmont) Conference Meet 4:15pm FRIDAY: FB @ Gladbrook-Reinbeck 7pm
Come support the Cross Country team on Thursday @ Starmont for the Conference Meet. Racing will begin at 4:15. The varsity girls team is currently ranked 6th in the State and the boys team has two runners ranked in the top 30 individually in 2A.