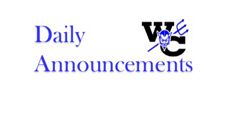 Daily Announcements
Robin Fliehler
Thursday, October 22, 2020
Daily Announcements
Wednesday, October 22nd
Day 38
Today's Activities:
Cross Country State Qualifying meet @ Jesup at 3pm lv@12:30
JH wrestling will start practice on Thursday this week. If you are interested please stop in the office.
2. Next week is Red Ribbon Week- wear red on Monday
3. Coach Greco and Coach Lockard will be having a pre-season meeting with the HS boys interested in playing basketball this season. The meeting has been changed to Friday after school in the college classroom.
4. Open gym will start next week on Tuesday and Thursday nights at 7pm until season starts
5. JH, 7th and 8th grade girls who are interested in playing basketball, there is a signup sheet in the office. Practice will start Oct 26th.
6. Football cheerleaders need to return uniforms by Friday, all items must be clean and laundered.
7. There is a sign up for basketball cheer in the office. Sign up by Friday. Date of tryouts is to be determined.
8. Any HS student interested in bowling please sign up in the office by Oct 27th.
9. It's Character Counts Week. Now is a good time to practice acts of kindness. Do you know something that needs to be done or someone that needs help? If so, act on it.