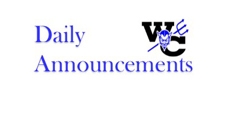 Daily Announcements
Robin Fliehler
Monday, November 09, 2020
Daily Announcements
Monday, November 9th
Day 50
Today's Activities: 7pm Fall Activity Awards (gym)
TUESDAY: JH W @ Starmont 4:30
WEDNESDAY: 2:10 Dismissal
THURSDAY: JH G BB @ SoWinn 4:15pm - leaving at 3:15; JH W @ Starmont 4:30
FRIDAY/SATURDAY: Fall Play 5pm and 7pm
1.Cheerleaders will start practice TODAY 3:30.
2. Monday will be the Fall Activity Awards at 7pm in the gym.
3. There will be an ISTEP (Iowa students for Tobacco education and prevention) meeting Tuesday 9th hour for those students interested in addressing vaping and tobacco use issues. Location will be announced later.
4. Anyone interested in joining Food and Fitness there will be an informational meeting on Friday (the 13th), 9th hour. Let Bonnie know if you are interested.
5. Girls basketball practice will start TODAY at 3:30 in Klinge gym.
6. Also there will be a girls basketball parent meeting Monday November 9th at 6:15 p.m. in the commons before the awards night.
7. Today is the last day to withdraw from a semester long NICC class. If you have previously withdrawn, check to make sure it shows on your NICC account.
8. Those who have registered for spring PICC classes with NICC, please log on to see if you are enrolled in those classes.
9. No open gym on Monday or Wednesday anymore.