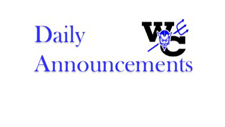 Daily Announcements
Robin Fliehler
Monday, January 11, 2021
Daily Announcements
Monday, January 11th
Day 83
Today's Activities: Start of 2nd Semester
Tuesday:
JH B BB vs NFV @4:15
Quad BB vs Central @6:15
Wednesday:
2:10 dismissal
Thursday:
V G/B BB vs Cedar Valley Christain @6:15
Friday:
JH B BB vs Clarksville @4:15
Quad BB @ South Winn @4:00
Mr. Milder has 2 sections of Dev Psych 7:15 will be 9th and 10th graders and 8:15 will be 11th and 12th graders.
2. A reminder for high school PE students this semester:
4th hour PE is on Mondays and Fridays.
5th hour PE is on Tuesdays and Thursdays.
7th hour PE is on Thursdays and Fridays.
3. Students that had Personalize Learning Considerations (PLC's) allowing you to come in late or leave early- they are expired. A new form must be turned in with a parent signature and Mr. Milder's signature prior to you being allowed to leave or come in late. Forms are in the office.