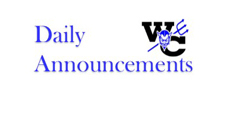 Daily Announcements
Robin Fliehler
Wednesday, January 13, 2021
Daily Announcements
Wednesday, January 13th
Day 86
Today's Activities: 2:10 dismissal
Thursday:
JV/V B BB vs Cedar Valley Christain @6:15 (no girls)
Friday:
JH B BB vs Clarksville @4:15
Quad BB @ South Winn @4:00
A reminder for high school PE students this semester:
4th hour PE is on Mondays and Fridays.
5th hour PE is on Tuesdays and Thursdays.
7th hour PE is on Thursdays and Fridays.
WC Post Prom - Pork Loin Dinner Fundraiser
Come Support Our Blue Devil Junior Class and their efforts to raise money for their Jr/Sr Post Prom Celebration that will be taking this spring. We will be serving out of the Maynard Community Hall from 11:00 AM – 1:00 PM, Curb Side Pickup, Pork Loin Meal, Party Potatoes and the Southwestern Baked Beans for $10.00.