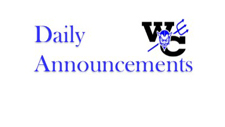 Daily Announcements
Robin Fliehler
Tuesday, February 23, 2021
Daily Announcements
Tuesday, February 23rd
Day 109
Today's Activities: Parent Teacher Conferences
WEDNESDAY: 2:10 Dismissal
THURSDAY: Parent Teacher Conferences
FRIDAY: No School
There will be a meeting about High School track right after school TODAY in the Spanish room. The first practice is Monday, March 1st.

Cheerleaders need to turn in clean uniforms by Thursday.

MS girls and boys that are interested in track, there is a sign up sheet in the office.