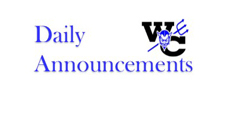 Daily Announcements
Robin Fliehler
Thursday, February 25, 2021
Daily Announcements
Thursday, February 25th
Day 111
Today's Activities: Parent Teacher Conferences
FRIDAY: No School
MS girls and boys that are interested in track, there is a sign up sheet in the office. Middle School Track Practice Will Start March 22nd.

There will be a softball meeting tomorrow (Thursday) 9th hour.
3. The link to order Track and Field apparel can be found on the West Central Facebook page. Orders are due by March 4th.
4. Good luck..Erin Hamlett, Chloe Huckins, Carley Miller, and Gracelyn Neuman-Birchard ...as they compete in District Speech Saturday morning in the categories of Solo Musical Theater, Interpretative Reading Poetry, and Spontaneous Speaking: ...On to STATE ladies!
5. Mr. O'Briens's Friday college classes will meet on Zoom. Foundations of Writing at 7am and American Film @9:15.