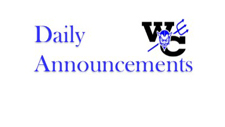 Daily Announcements
Robin Fliehler
Monday, March 01, 2021
Daily Announcements
Monday, March 1st
Day 113
Today's Activities:
Congratulations to Erin Hamlet, Chloe Huckins, Carley Miller, and Gracelyn Neuman-Birchard on their performances at District Contest for Individual Speech on Saturday, February 27, at North Fayette Valley. Their dedication to the West Central Performing Arts is something to be proud of. Advancing to the State competition will be Erin, Carley, and Gracelyn. Well done ladies!

MS girls and boys that are interested in track, there is a sign up sheet in the office. Middle School Track Practice Will Start March 22nd.

There will be a prom meeting 9th hour TODAY in the Art Room.
4. The link to order Track and Field apparel can be found on the West Central Facebook page. Orders are due by March 4th. Monday there will be an ISTEP lunch meeting in Rm 129.