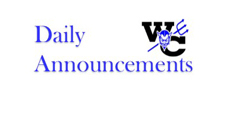 Daily Announcements
Robin Fliehler
Wednesday, March 03, 2021
Daily Announcements
Wednesday, March 3rd
Day 115
Today's Activities: 2:10 Dismissal
MS girls and boys that are interested in track, there is a signup sheet in the office. Middle School Track Practice Will Start March 22nd.

HS students interested in golf, there is a sign-up sheet in the office.
3. The link to order Track and Field apparel can be found on the West Central Facebook page. Orders are due by March 4th.
4. Boys Basketball meeting/Jersey hand in TODAY after school at 215. Please have everything washed and in a plastic bag.
5. Students, please do not leave your trash in the school parking lot.