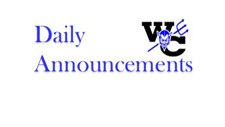 Daily Announcements
Robin Fliehler
Tuesday, March 23, 2021
Daily Announcements
Tuesday, March 23rd Day 129
Today's Activities:
WEDNESDAY: 2:10 Dismissal
THURSDAY: HS Track @ NFV 4:30pm - leave at 3pm, dismiss at 2:50
FRIDAY: Track/Golf pictures
Driver's Ed will start next month. If you are interested in taking the class, the deadline for registration is March 31st.

Track and golf pictures for high school and JH will be taken on Friday. Order forms are in the office.