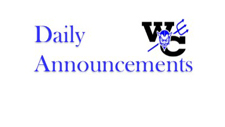 Daily Announcements
Robin Fliehler
Friday, April 16, 2021
Daily Announcements
Friday, April 16th
Day 143
Today's Activities: JH track @ S/F at 4:15, lv@ 3:00, dismiss at end of 8th hour
The Student Government is hosting a shoe drive starting NOW!!! Until April 30th. Students can bring in shoes to donate to the drive. We will accept any shoes that are in good condition as they are to be donated. The shoes can be flip flops, sandals, boots, or tennis shoes. The homeroom who brings in the most shoes will get to choose lunch for a day!

Sign up sheets are in the office for those who are planning to attend prom and post prom. Get your name(s) on the list by April 23rd. Guest registration forms are in the office as well. They are also due on the 23rd.

ISASP testing will begin on Monday. Check your email for a live version of the schedule and look for schedules posted on doors in the hallway.