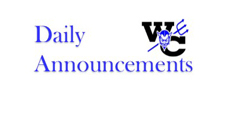 Daily Announcements
Robin Fliehler
Wednesday, April 28, 2021
Daily Announcements
Wednesday, April 28th
Day 151
Today's Activities: 2:10 Dismissal
THURSDAY: Golf at Big Rock 4pm JH Track @ N-P 4pm- leaving at 2:30pm, dismiss at 2:15pm G Track @ MFL/MM 4:30pm- leaving at 2:30pm, dismiss at 2:15pm B Track @ Clayton Ridge 4:30pm - leaving at 2:30, dismiss at 2:15pm
FRIDAY: B Track @ Starmont 4:45pm - leaving at 3:30
SATURDAY: Prom 3:30 Grand March
The Student Government is hosting a shoe drive starting NOW!!! Until April 30th. Students can bring in shoes to donate to the drive. We will accept any shoes that are in good condition as they are to be donated. The shoes can be flip flops, sandals, boots, or tennis shoes. The homeroom who brings in the most shoes will get to choose lunch for a day!

We need 3 workers for the UIC Track meet at NFV on Thurs May 6th. We are responsible for 1 timer and 2 hurdle setters.
3. John Deere will be holding a Job fair at the RAMS Center on Wednesday, May 5th from 3-7pm. This would be an excellent opportunity for seniors.