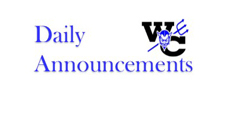 Daily Announcements
Robin Fliehler
Friday, April 30, 2021
Daily Announcements
Friday, April 30th
Day 153
Today's Activities: B Track @ Starmont 4:45pm - leaving at 3:30
SATURDAY: Prom 3:30 Grand March
John Deere will be holding a Job fair at the RAMS Center on Wednesday, May 5th from 3-7pm. This would be an excellent opportunity for seniors.

Students, staff and parents please check JMC to see your lunch account balance.

After losing our Junior High track meets at Starmont and East Buchanan, we accepted Oelwein's offer to attend their meet on Tuesday May 4th.
4. The Kee's Junior High track meet schedule for April 19th has been rescheduled for May 10th.