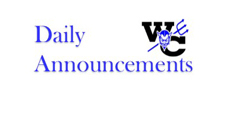 Daily Announcements
Robin Fliehler
Monday, May 03, 2021
Daily Announcements
Monday, May 3rd
Day 154
Today's Activities: Golf at Big Rock 4pm; HS Track @ So Winn 4:30 - leaving at 3pm, dismiss at 2:50 G JH Track @ NFV 4pm - leaving at 3pm, dismiss at 2:50
TUESDAY: JH Track @ Oelwein 4:15pm - leaving at 3:30 HS Track @ S-F 4:30pm - leaving at 3pm, dismiss at 2:50
WEDNESDAY: 2:10 Dismissal
THURSDAY: Freshman Orientation 7:45 in the auditorium Golf @ Turkey Valley 4pm Conference Track @ NFV @ 4pm - leaving at 2:45, dismiss at 2:35
Seniors who will be going on the class trip, report to school by 7:45 for bag check.

Students, staff and parents please check JMC to see your lunch account balance.

After losing our Junior High track meets at Starmont and East Buchanan, we accepted Oelwein's offer to attend their meet on Tuesday May 4th.
4. The Kee's Junior High track meet schedule for April 19th has been rescheduled for May 10th.
5. Congratulations to Cydara Allwood, Aaliyah Gordon, Chloe Huckins, Mikaela Kime, and Isabelle Steinbronn into the 2021 West Central National Honor Society.