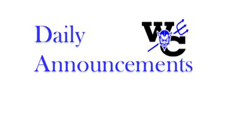 Daily Announcements
Robin Fliehler
Tuesday, May 18, 2021
Daily Announcements
Tuesday, May 18
Day 164
Today's Activities: Wednesday: 2:10 early dismissal
Thursday: State Track-send off @8:45, lv@9:00
5:10pm Open 200 Prelims(Aaliyah Gordan)
Friday: State Track
5:20pm - 4x200 FINAL Aaliyah, Marlee, Kylee, Naomi (Alt. Emma & Annika)
7:10pm - 4x100 Prelims Aaliyah, Marlee, Kylee, Naomi (Alt. Emma & Mikaela)
7:50 - 4x400 Prelims Naomi, Abby, Kylee, Marlee (Alt. Emma & Annika)
Saturday: State Track
2:00pm - Sprint Medley FINAL Aaliyah, Emma, Naomi, Marlee (Alt. Kylee & Mikaela)
4:40pm - 200 Meter Dash FINAL
5:25pm - 4x100 FINAL
5:40 - 4x400 FINAL
There will be a meeting after school on Tuesday, May 18th in the MS Science room for 8th-11th graders interested in joining football cheerleading. Let Ms. Bergman know if you can not make it or have any questions.

Those who still have textbooks from Mr. Milder or Mr. O'Brien classes, please turn them in to Mr Milder.

Junior High and High School track athletes, please turn in your CLEAN uniform to Coach Hageman as soon as possible.

Student Government forms are in the office. These forms are due Tuesday, May 18th by 9th hour. They can be turned into the main office or Mrs. Wells.

Spring Sports Awards will be held Thursday, May 27th at 6:00 in Klinge Gym

Students need to finalize fall schedules with Mr. Milder and complete My Academic Plan (MAP). He will need a 4 year plan for all students grades 8-11 before the year of the school year. The eighth grade is required to be signed by a parent.