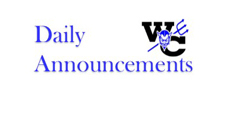 Daily Announcements
Robin Fliehler
Wednesday, May 19, 2021
Daily Announcements
Wednesday, May 19th
Day 165
Today's Activities: 2:10 early dismissal
Thursday State Track-send off @8:45, lv@9:00
5:10pm Open 200 Prelims(Aaliyah Gordan)
Friday State Track
5:20pm - 4x200 FINAL Aaliyah, Marlee, Kylee, Naomi (Alt. Emma & Annika)
7:10pm - 4x100 Prelims Aaliyah, Marlee, Kylee, Naomi (Alt. Emma & Mikaela)
7:50 - 4x400 Prelims Naomi, Abby, Kylee, Marlee (Alt. Emma & Annika)
Saturday State Track
2:00pm - Sprint Medley FINAL Aaliyah, Emma, Naomi, Marlee (Alt. Kylee & Mikaela)
4:40pm - 200 Meter Dash FINAL
5:25pm - 4x100 FINAL
5:40 - 4x400 FINAL
There will be a meeting 9th hour on Thursday in the MS Science room for 8th-11th graders interested in joining football cheerleading. Let Ms. Bergman know if you can not make it or have any questions.

Those who still have text books from Mr. Milder or Mr. O'Brien classes, please turn them in to Mr Milder.

Golfers please turn in your golf polo to the office.

Baseball players please bring your yellow baseball jersey and cap so Mrs. Fliehler can take your photos for the yearbook.
5. Junior High and High School track athletes, please turn in your CLEAN uniform to Coach Hageman as soon as possible.