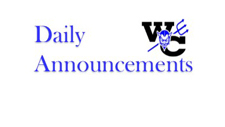 Daily Announcements
Robin Fliehler
Monday, May 24, 2021
Daily Announcements
Monday, May 24th
Day 168
Today's Activities: V Baseball vs Ed-Co 5pm
TUESDAY SB @ Wapsie 4:30pm - leaving at 3pm - dismiss at 2:50
WEDNESDAY 2:10 Dismissal
THURSDAY Spring Sports Awards 6pm JV/V Baseball @ Marquette 4pm - dismiss at 12:20
FRIDAY LAST DAY OF SCHOOL
Elementary Awards 8:45 Preschool Graduation 9:30 K-5 Field Day 10am 8th Grade Graduation 11:45 1:10 Dismissal
1. Junior High and High School track athletes, please turn in your CLEAN uniform to Coach Hageman as soon as possible.
2. Spring Sports Awards will be held Thursday, May 27th at 6:00 in Klinge Gym.
3. Students need to finalize fall schedules with Mr. Milder and complete My Academic Plan (MAP). He will need a 4 year plan for all students grades 8-11 before the year of the school year. The eight grade is required to be signed by a parent.
4. Open Campus permission slips are due in the office by Wednesday the 26th in order to have the open campus privileges.
5. HS boys and girls, please clean up your stuff/clothes/etc in the locker room. It needs to be out by Thursday, May 27th. Items left will be taken to Goodwill.