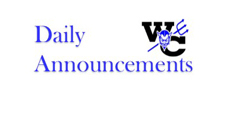 Daily Announcements
Robin Fliehler
Wednesday, May 26, 2021
Daily Announcements
Wednesday, May 26th
Day 171
Today's Activities: 2:10 Dismissal
THURSDAY Spring Sports Awards 6pm JV/V Baseball @ Marquette 4pm - dismiss at 12:20
FRIDAY LAST DAY OF SCHOOL;Elementary Awards 8:45 Preschool Graduation 9:30 K-5 Field Day 10am 8th Grade Graduation 11:45 1:10 Dismissal
Junior High and High School track athletes, please turn in your CLEAN uniform to Coach Hageman as soon as possible.

Ballots will be distributed to high school students at lunch time today (Wednesday, May 26) to vote for next year's Student Government Representatives. If you will not be here during lunch time, see Mrs. Wells to cast your vote. 8th graders will get their ballots to cast their votes during 3rd hour today (Wednesday, May 26). If you are not here during this time, see Mrs. Wells to cast your vote.

Spring Sports Awards will be held Thursday, May 27th at 6:00 in Klinge Gym

Open Campus permission slips are due in the office by Wednesday the 26th in order to have the open campus privileges.

HS boys and girls, please clean up your stuff/clothes/etc in the locker room. It needs to be out by Thursday, May 27th. Items left will be taken to Goodwill.

All girls grades 8-11 thinking about playing volleyball will meet with the new coach at lunch time on Wednesday May 26th. High Schooler's get your meal and go to room 129.