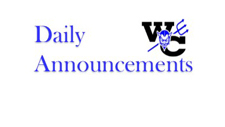 Daily Announcements
Robin Fliehler
Thursday, May 27, 2021
Daily Announcements
Thursday, May 27th
Day 172
Today's Activities: Spring Sports Awards 6pm JV/V Baseball @ Marquette 4pm - dismiss at 12:20
FRIDAY LAST DAY OF SCHOOL
Elementary Awards 8:45 Preschool Graduation 9:30 K-5 Field Day 10am - in Klinge Gym 8th Grade Graduation 11:45 1:10 Dismissal
Junior High and High School track athletes, please turn in your CLEAN uniform to Coach Hageman as soon as possible.

K-5th Grade's Field Day will be held in the Klinge Gym, starting at 10am.

Spring Sports Awards will be held Thursday, May 27th at 6:00 in Klinge Gym.

HS boys and girls, please clean up your stuff/clothes/etc in the locker room. It needs to be out by Thursday, May 27th. Items left will be taken to Goodwill.

There will be a meeting and signup for cross country at 2:45 on Thursday in the big gym. All middle school and high school students who are interested should attend. If a high school student is taking a final exam, they can come at 3:10 or when they are finished.