The West Central State Track and Field online webstore is up and running at the link below. The webstore closes at 11 AM tomorrow, Monday May 16th.     Charlie Sieck our West Central State Track Qualifier is State bound! We are super proud of this kid. Get your Blue Devil Attire! Please go to the site and start shopping. Do it quickly because the sale ends Monday, May 16, 2022 (10:59 AM CDT). The state qualifier, event and coaches' names will be listed on the back of shirt. Order on-line.  
https://wcstatetrack2022.itemorder.com/

You're invited!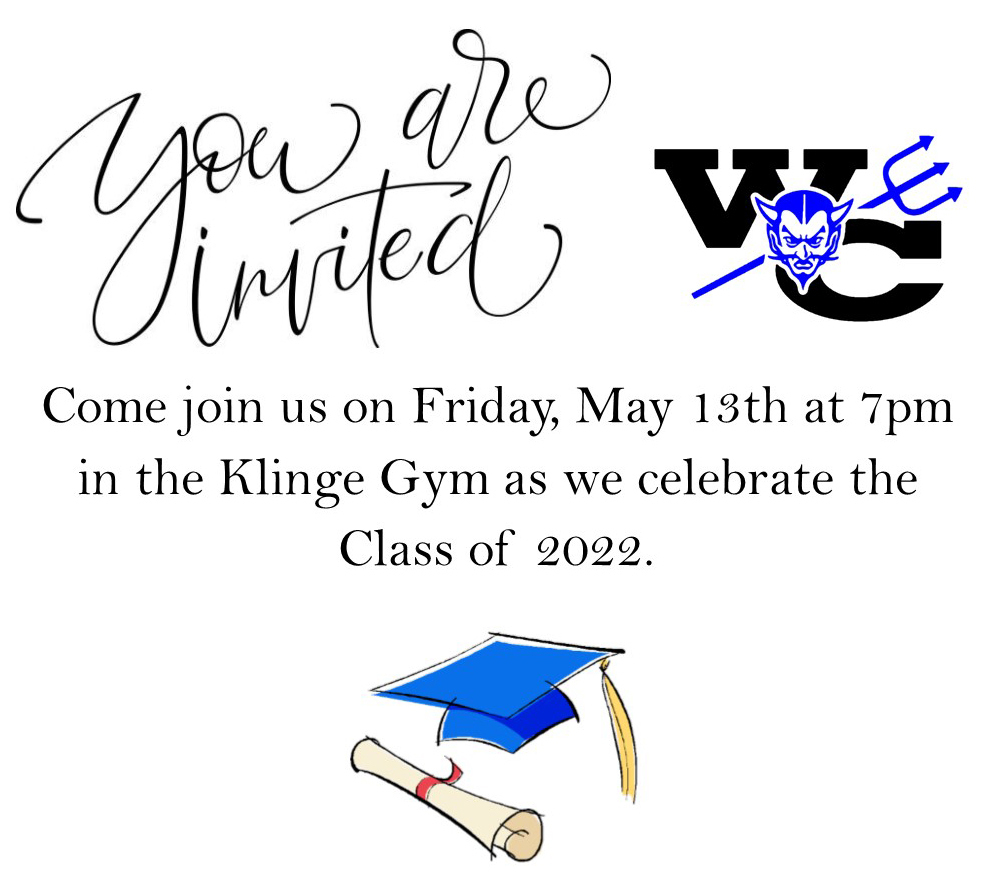 The boys meet at Oelwein tonight has been postponed to 4/19.

The boys track meet at Postville has been cancelled for today.

April 5: Tonight's girls track meet at Postville has been cancelled.

Our mobile app is currently not available to iPhone users. We are working to rectify this issue and will let you know when it is available.

The online store is open to order West Central track and field shirts! The ordering ends March 24th at midnight, shirts will be in around April 8. *white team shirts are for WC High School track athletes* custom.rivalsinc.com/westcentraltrack

West Central is closed today March 7. No activities.

West Central is canceled for February 22. No activities.

West Central will be on a 2 hour delay Tuesday February 22.

Reminder that tomorrow, 2/17, all West Central students grades 7-12 will be attending a suicide intervention training called QPR, unless we have gotten notification from parents opting their student out. There will be no open campus for grades 11-12 for periods 3, 4, and 5. Juniors and Seniors should plan to be here by 9:53.


First round basketball action West Central boys basketball at Wapsie Valley on Monday night at 8:00 pm. Tickets must be purchased online here


The JV/V boys basketball games at Oelwein on Monday Feb. 7 will take place in the Sacred Heart gym. JV starts at 6:15

West Central is canceling school January 26. All activities and practices are canceled.

PACK THE GYM TONIGHT! Come for the soup supper hosted by the Booster Club starting at 4:00, browse the JH bake sale table and place a bid on a themed basket at the Post Prom silent auction

West Central will have a 2 hour delay tomorrow. All activities will proceed as planned.

"Congratulations to Mikaela Kime, Elizabeth Hepperle, and Annika Kent-Thomas for making the 2023 All Star Cheer Squad for the Shrine Bowl! The girls will have the opportunity to perform at the Shrine Bowl game this summer.

West Central has canceled school for January 14, 2022. All activities are canceled for this evening. Pack the Gym has been rescheduled to January 25. We will plan on having our elementary students perform and our Soup Supper is on. Please plan to attend and support our students.